The mission of the Blowing Rock Civic Association is to protect and improve the quality of life in Blowing Rock by taking proactive stands on civic affairs, educating and engaging residents on key town issues, working with local government, and encouraging citizens to be involved in the community. To protect and foster the interests of citizens and property owners of Blowing Rock and its surrounding neighborhoods and areas.
Thank You to NCDOT! The Blowing Rock Civic Association is grateful for your speeding up completion of the Highway 321 Widening Project in Blowing Rock! On June 30th 2015 you committed to have four lanes open and running through Blowing Rock by July 4th 2016.
US 321 and North Main Street
Blowing Rock As of July 1st, 2016
photo courtesy NCDOT



Original contract for the Hwy 321 project through Blowing Rock

started January 2012 -
now the completion date is
projected for late summer 2017
( 66 months)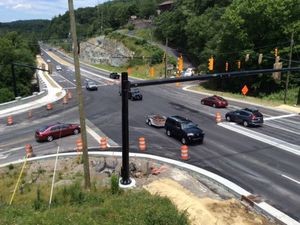 While an important portion from Norwood Circle and Green Hill Road is unfinished the activity to complete it has accelerated substantially.
NCDOT made extraordinary efforts to keep their commitment this past year.
The effective personal efforts of Jim Palermo and Mike Pettyjohn to expedite the project are greatly appreciated.
Chief Engineer Mike Holder and all the associates involved are to be congratulated and encouraged to continue speeding up completion of the vitally important project.
Wednesday, July 20th, 2016 at 2:00 p.m. the Blowing Rock Civic Association sponsored another Community Meeting with the NCDOT at the American Legion Building in downtown Blowing Rock
We cordially invite and even urge all Blowing Rock citizens and neighbors to view the video of this meeting,
for the update on Project completion.
We also invite everyone to join our citizens group which is devoted to preserving, protecting and enhancing our great town.